The spectacular resort of Port Dickson is located in Negeri Sembilan a little over an hour from Kuala Lumpur. Travellers come to Port Dickson to lounge on the pristine beaches, explore the small towns along the coast, and enjoy water activities in the crystal, blue sea. You can spend your leisure time snorkeling, scuba diving, or water skiing. Nearby is Blue Lagoon, with panoramic views of the scenery and calm seas for swimming and boating. The resort town offers a variety of luxury accommodations. You may choose a resort, hotel, bungalow, or a charming Port Dickson chalet. The chalets offer a more tranquil holiday experience that many travellers seek.
A Chalet Experience For Everyone


Chalets are on the oceanfront with private decks and pools, while others resembling mountain chalets are built on green spaces, surrounded by trees. One thing the chalets have in common is the panoramic views. Chalet resorts over the water feature lighted walkways to your chalet. Private balconies offer a peaceful place to relax after a day exploring Port Dickson. Many of the resorts have swimming pools with decks and lounge areas to relax in the sun.

Transportation To Port Dickson

Car hire services are available at Kuala Lumpur International Airport. Several companies offer rental services. When you book your flight, it's advisable to check the hours of operation since they vary depending on the company. Travellers who prefer not to drive can take one of the express buses or a taxi to Port Dickson. Bus service allows you to relax in comfort on the journey from Kuala Lumpur to Port Dickson and is the preference of many locals and visitors due to the convenience and reasonable cost.

Port Dickson Chalet Amenities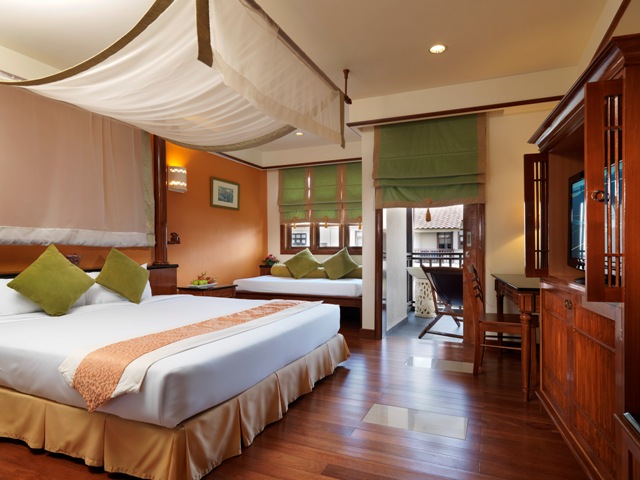 Noteworthily, the rooms of water and garden chalets in Port Dickson are exceptionally spacious and feature coffee and tea makers, private balconies with comfortable loungers, cable or satellite TV on big screens. Air conditioning keeps your accommodations comfortable. Hotels usually feature queen or king-sized beds, some feature day beds and are family-friendly. Many hotels feature upscale, in-house restaurants with cocktail bars in the lobby. The friendly staff will be more than happy to recommend the popular diving and snorkeling spots, must-see attractions and places to shop, only to ensure you the best holiday and hotel experience in Port Dickson.

Port Dickson Dining and Entertainment Venues

One of the best things about visiting Port Dickson is the array of cuisine. The resort town has an excellent selection of restaurants that serve local Malaysian favourites and international dishes. While exploring the area, you'll find street vendors that sell delicious snacks on the beach and around the shopping centres. In recent years, Port Dickson has become famous for the number of great restaurants that serve Chinese cuisine. Most of the nightlife in Port Dickson is at the clubs and bars located in the resorts. Local DJ's provide music, and you can order your favourite cocktails.

Attractions Around Port Dickson


If you're visiting Port Dickson with your children, two places to visit are the Port Dickson Ostrich Farm where visitors can ride an ostrich and learn the proper way to handle ostrich eggs. The Port Dickson Mini Zoo is the perfect place for families to interact with rabbits, monkeys, camels, and horses. Teluk Kemang has lovely beaches and golf courses. Make sure to spend some time in beautiful Blue Lagoon during your visit.